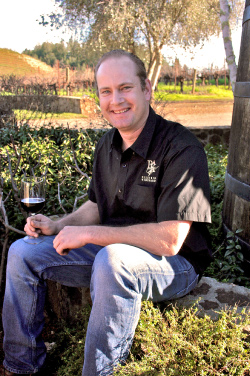 Chris Barrett is a native to Sonoma County wine country. He has seen this area grow from a few wineries to the prestigious area that it is today. This is what brought him back to Sonoma County after graduating from CSU Chico with a degree in biology.  Chris has won 4 Sweepstakes Awards, the most recent from the 2015 San Francisco Chronicle Wine Competition.
Chris has always had one foot in the lab and the other in the cellar. He worked for Vinquiry learning the ins and outs of wine analysis while developing his skills in fining and winemaking products. Soon Chris realized he needed more. He took the senior analyst position at Sonoma Wine Company and quickly became their Enologist.
After working harvest of 07, Chris felt the need to craft his own wines. Once the opportunity arose to join Pezzi King Vineyards and work for a premium Dry Creek producer, Chris did not hesitate. Taking on the position of assistant winemaker/cellar master, he dove right into learning everything about the Estate. Chris' hard work paid off as he took over as winemaker after the 08 harvest. "Pezzi King holds high expectations on the fruit and the wines that are produced. It is up to me to keep that level of quality."
When Chris is not making wine he enjoys time with his wife, Angela their sons, Bruce and Houston, and they often go fishing together. In his free time, Chris has another passion second to winemaking: developing reef tanks.